On 29th March 2017, SME EUROPE of the EPP in cooperation with CCIA (Computer & Communications Industry Association), hosted an event at the EPP Congress in Malta. The Working Breakfast was conducted in the Intercontinental Hotel in St. Julian's and considered the following thematic: "SMEs, the Digital Single Market and the Future of Work: Jobs and Inclusive Growth in the Digital Century". The event was attended by the following guest speakers: Bendt Bendtsen MEP, President of SME EUROPE, Former Minister for Economic and Business Affairs, Member Committee on Industry, Research and Energy; Elisabetta Gardini MEP, Vice President of SME EUROPE, Chair SME Europe WG Digital Agenda, Committee on Internal Market and Consumer Protection; Horst Heitz, Executive Director of SME EUROPE; Samuel Laurinkari, Head of EU Affairs, Ebay; Agata Wejman, Head of public Policy & Government Relations, Uber; Ádám Kósa MEP, Committee on Employment and Social Affairs; Inese Vaidere MEP, Committee on Budgets; Iuliu Winkler MEP, First Vice President of SME EUROPE, Vice Chair on Committee of International Trade; and Ivan Štefanec MEP, Vice President of SME EUROPE, Member of Committee on Internal Market and Consumer Protection.
Bendt Bendtsen MEP officially welcomed the guests and congratulated all attendants on such a successful turnout at a very busy conference. He remarked on the importance of Single Market completion, and that steps to bring this integral part of the EU into the digital age as quickly as possible.
Samuel Laurinkari opened the discussion by presenting a short insight on "Bringing down barriers to e-commerce: how SMEs can reap the benefits of global trade". He explained that Ebay is an online business of the nineties, where one could sell unwanted gifts and miscellaneous goods. At this time the market was very much "consumer to consumer" in nature; today however, the market has changed to more of a "business to consumer" marketplace. As a result of this, 80% of business on Ebay comes directly from SMEs and the transaction fees, in addition to this, 80% of this number using the platform are exporters. This is why Ebay sees itself as an advocate for small businesses. According to Mr. Laurinkari, technology has changed the way of commerce by allowing everyone to contribute to global trade, SMEs are therefore viewed as direct actors of world trade and could therefore be classified as "Micro Multinationals". Mr. Laurinkari suggested that the following areas remain problematic for SMEs using Ebay today: slow performance of many shipping companies where packages are often untraceable; VAT registration remains a huge administrative burden for small businesses; and more effective legal frameworks must be implemented which are friendly to small businesses using such online platforms.
Next to the floor was Agata Wejman who, on behalf of Uber, presented some informative facts regarding the statistics of car usage on our roads in Europe. According to this, 1.2 people occupy the average car, this in turn has a huge impact on public spending and congestion on European roads. Shared mobility is said to be a in a position to vastly slash these numbers, reduce congestion, and decrease the need for public car parks by 95%. Mrs. Wejman stated that 30% of Uber rides in big cities such as Paris or London are used as connections to other modes of transport such as bus, metro, or train stations. Furthermore, a Harvard study cited by Mrs. Wejman claims that "commuting time" I regarded as a high contributor to poverty rates. In terms of Uber and its employees, Mrs. Wejman used France as an example to show that 90% of Uber drivers want to be flexible whilst being their own boss; it is also regarded as an extra opportunity for everyone in society as there are no interviews or scrutiny regarding the employee´s past (apart from the obvious security and criminal record checks). As a result of this, Uber represents a fair path into the workforce for all; this is proven by the employment situation for drivers in France before the introduction of the Uber app, where 25% of drivers were unemployed and 40% of this number suffered unemployment for a whole year. As well as providing fantastic employment prospects, Uber can also allow SMEs to vastly improve mobility in our cities.
Adam Kósa MEP thanked SME EUROPE for the invitation to contribute to the event, and remarked that an SME contingency balance is desperately needed. For Mr. Kósa, there are two important topics regarding jobs and inclusive growth in the future Digital Single Market, the first is accessibility, and the second is the development of robotics. Mr. Kósa believes that SMEs are facing huge hurdles and a harness on their innovational capacities. In Hungary, 70% of income comes from SMEs, this number could either be jeopardized or improved judging by the policy that we develop today. Mr. Kósa used the USA as an example of how previous legislation has set a fantastic benchmark for accessibility. 80 million consumers are currently disabled and are missing out on employment and consuming, digitalization and robotics should therefore be pushed to get these people back to work; this has recently been tackled by the European Parliament which adopted the AI report about a month ago, the main challenge now is the issue of liability. He finished his intervention by stating that SMEs are the future hope of increased employment in Europe.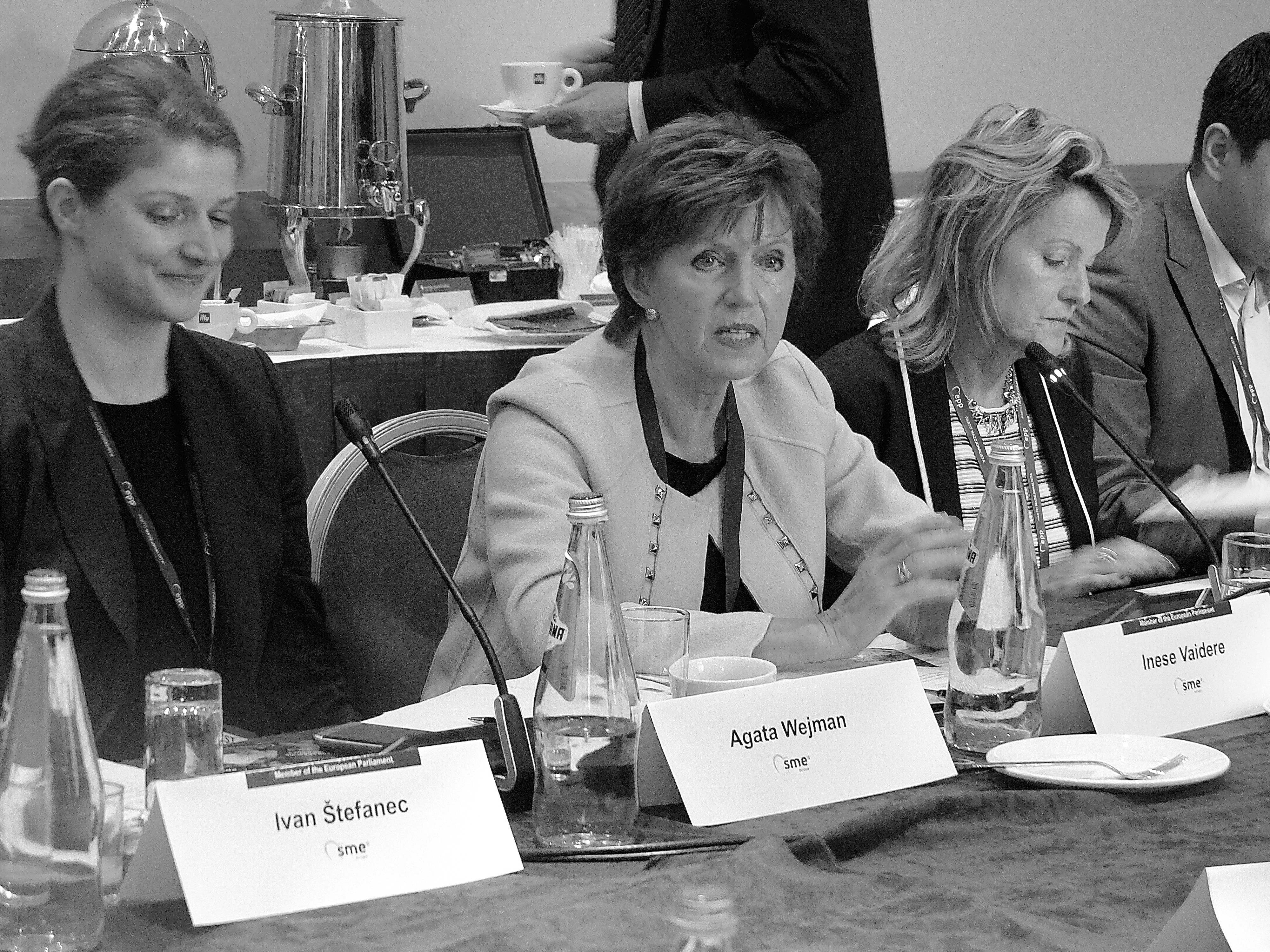 Inese Vaidere MEP took the floor and displayed her commitment to SMEs by giving a short summary of her position as a Start-up Ambassador and her participation in the EU-Start-Ups Awards, she was therefore delighted to be asked to contribute at this event. For Mrs. Vaidere, the future of the EU economy is in the hands of innovation and technology development. Unfortunately many of these key technology developers are moving away from Europe. Therefore, the EU must develop incentives for this talent to stay in the EU and develop the necessary digital skills for all.
Ivan Štefanec MEP focused on the framweoks and standards of such a policy wishing to flexibly regulate the new European Digital Economy. He stated that there are indeed many different sets of rules globally, and that in the EU alone, there are 28 sets of separate rules, Mr. Štefanec implores that these rules should either be removed or harmonized as well as the much discussed standardization of taxes which puts many people in different member states at a huge disadvantage or an unfair advantage. Mr. Štefanec strongly believes that all of this can be achieved through improved infrastructural developments in the form of a digital union including the whole of the EU.
Iuliu Winkler MEP took a historic approach and referenced the anecdote of Holywood in the 50´s desperately fighting against the television industry through fear of loss of trade. This fear eventually blossomed into a fruitful cooperation where many ideas were shared. Mr. Winkler is a firm believer of placing ideas before party politics, and is convinced that there can be no comprehensive populist answer to such technical issues.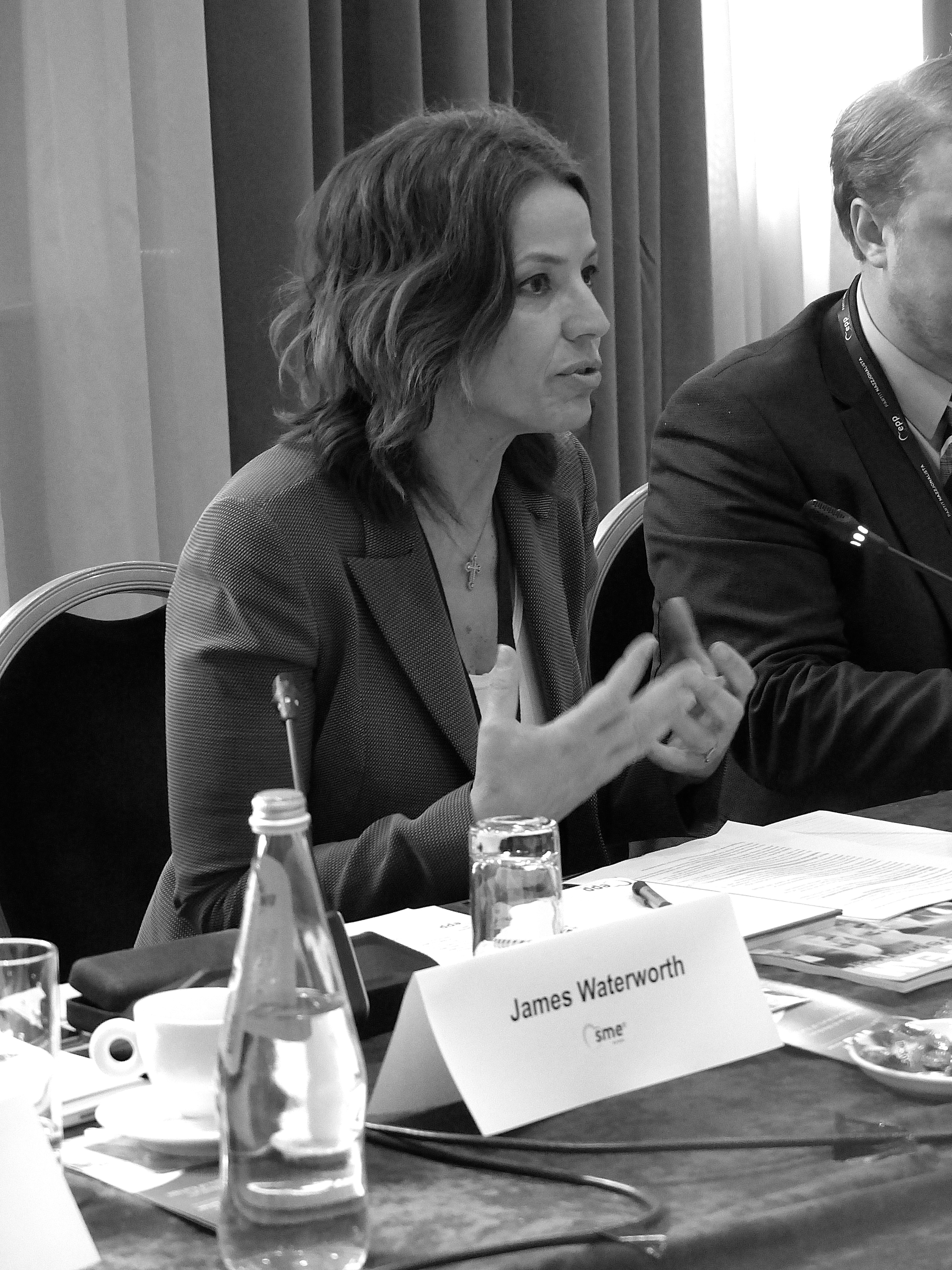 Mrs. Gardini MEP wrapped up the conversation by expressing that a strong digital economy is vital for innovation, growth, jobs and European competitiveness. She further believes that the spread of digitalization is having a massive impact on the labour market. The negative side to all this is the existing online barriers, these mean that citizens miss out on goods and services, internet companies and start-ups have their horizons limited, and businesses and governments cannot fully benefit from digital tools. It's time to make the EU's single market fit for the digital age – tearing down regulatory walls and moving from 28 national markets to a single one. This could contribute €415 billion per year to our economy and create hundreds of thousands of new jobs.