SME Star Awards 2018
It all started one year ago with an idea. The idea to celebrate the tireless work of SMEs in the EU and create an "Oscars for SMEs".
The initiative came from the Board of SME Europe of the EPP and SME Connect, represented by acting Members of the European Parliament, remarkable and committed advocates for SME welfare through their entire career. It is them who observed best SME cases in their regions and nominated the most exemplary ones according to 12 adherent categories. We are thankful to all Members who answered our call as we have received several applications from Denmark, Italy, Portugal, Bulgaria, Austria, Latvia, Ukraine and Ireland. These nominees were judged on their attitude towards cross-border cooperation, competition, and of course whether the nature of their concept was deemed to have potential to be successful and make a positive impact on the EU economy
During the Ceremony on October 17th, that took place in the European Parliament, the winners of all categories were presented and awarded by our esteemed Board Members:
SME Star Environment Award was given to SITA Srl (Italian Advanced Technology Society), an Italian company that evolved after 5 years of research into a patent on gasification. The goal of SITA is to develop the gasification patent and to transform it into applications able to combine the production of renewable energy with the exploitation of biomass or waste disposal.
The company was nominated by Elisabetta Gardini MEP and presented by Giovanni La Via MEP.
SME Star Start-Up Award was dedicated to Komproment Danish Building Design, nominated by Bendt Bendtsen MEP and presented by Ivan Stefanec MEP.
Komproment Danish Building Design was founded in the year 2000, based in Denmark, specializes in development and strategy focusing on facade systems and roofing, sustainable and circular Building systems. Sustainable integrated solar Energy, Natural Building Materials, slate and clay on facades and roofing. The company is actively exporting its technology worldwide.
SME Star Family Award was presented by Claudia Schmidt MEP to Lilla Racz, owner of Castle Hotel Daniel – a Castle from a 17th century in the middle of an area called the Land of Woods, is a hotel that used to be the castle of a noble family called Daniel. The owners have restored it and taken advantage of its historical value, offering authentic Transylvanian guest experiences by leveraging local values. The revitalization of a castle is a complex problem where architecture meets economy or culture, which can often be difficult.
Castle Hotel Daniel was nominated by Iuliu Winkler MEP.
SME Star International Award win belongs to the MicroShade A/S nominated by Bendt Bendtsen MEP and presented by Iuliu Winkler MEP.
MicroShade A/S specializes in developing and marketing advanced, transparent solar shading solutions, the mission is to reduce energy consumption in modern buildings with large glass facades, using aesthetic and maintenance-free solar shading. The Company was founded as a spin-off from the Danish Technological Institute following an idea to integrate solar cells in glass facades. The main office is in Taastrup, Denmark.
SME Star Innovation Award was received by GA Drilling, a high technology company headquartered in Bratislava, Slovakia with branches in London and Houston, pioneering in plasma milling, that has successfully accomplished the first ever plasma milling underwater.
The company was nominated by Ivan Stefanec MEP and presented by Sean Kelly MEP.
SME Star Role Model Award was dedicated to Madara Cosmetics, nominated by Inese Vaidere MEP and presented by Thomas Mann MEP.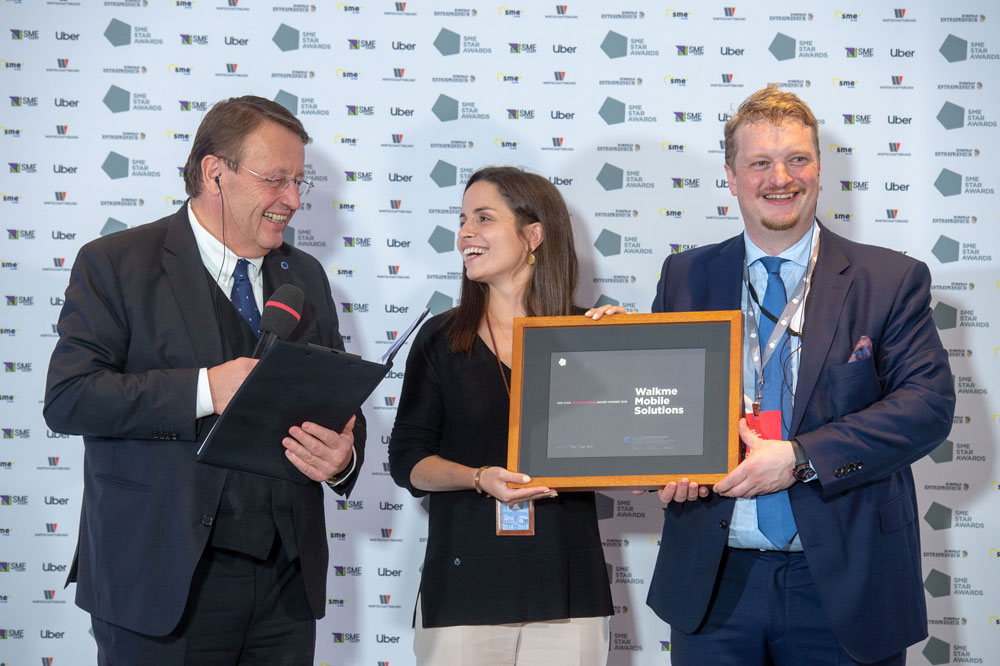 Walkme Mobile Solutions is creating and developing mobile applications. Founded in 2012 by three finalists of the Master in Computer Engineering from Madeira's University. Their products stand out to regional customers covering touristic activities and insurance as well as are requested on the international level, particularly in Norway with specific mobile solutions for construction companies and telecommunications.
The Company was nominated by Claudia Monteiro de Aguiar MEP.
The SME Star Neighbour Award was received by a Ukrainian social media platform Nash Kyiv and its project Murahy.com nominated by Michal Boni MEP and presented by Roza Gräfin von Thun und Hohenstein MEP.
A public organization Nash Kyiv (It Is Our Kyiv) was founded in Kyiv aiming at creating a tool for developing a highly effective capital community. At the same time they created another project called Murahy.com, which is a charity marketplace, the idea is so relevant that it can be extended in the format of social business far beyond Ukraine. Has a permanent user base, has conducted 7 special charity projects and cooperates with 8 proven charity funds of Ukraine. The company promotes social entrepreneurship and is active in e-commerce.
The SME Star Agriculture Award was dedicated to Delacon Biotechnik GmbH nominated by Dr. Paul Rübig MEP and presented by Herbert Dorfmann MEP.
Delacon Biotechnik is an Austrian family business operating in the specialty feed industry. The European feed industry has professionalized. A lot of innovations are on the market and so it has grown from a niche category to global importance.
Here is how Delacon illustrates it:
"In the 80s, antibiotics were used for disease prevention, thus better health and performance of animals (antibiotic growth promoters)  the consumer's voice was not that pronounced, antimicrobial resistance not yet a concern.

Our company founder had the vision to replace them by natural additives, derived from herbs, spices, other plants, and their extracts: 'substitute synthetic performance enhancers by natural phytogenic feed additives for delivering sustainable livestock farming and reliable food safety'.
As the products were backed by research and scientific data, and wanted to avoid confusion with any 'magic herbal products' – he coined the scientific term: phytogenic feed additives and created a new market for those additives – natural additives (instead of antibiotics) helping to keep animals healthy and performing, providing cost benefits for farmers, reducing emissions and securing food safety.
Today, the feed industry has professionalized, a lot of innovations are on the marketplace – and phytogenic feed additives have grown from a niche to a category of global importance, they get increased attention for delivering benefits to farmers, livestock, consumers, and the environment.

Recent surveys have shown that consumers positively resonate with phytogenic feed additives and would be willing to buy animal protein fed with those natural products."
Besides the above mentioned categories, one more category has  found a spotlight during the evening.
The SME Star Hero Award – a category out of the competition dedicated to Individuals, Projects or Institutions that greatly contributed to the SME policies whether in their region or on a global scale.
Our SME Star Hero Awards went to
Plamen Rusev – Bulgarian Entrepreneur, Member of Stara Zagora City Council, Chair of the Committee on SMEs and Industry and Board Member of the Chamber of Commerce and Industry of Stara Zagora. Nominated by Eva Maydell MEP
Fuel Cells and Hydrogen Joint Undertaking – a unique private partnership supporting research, technological development and demonstration of activities in fuel cell and hydrogen energy technologies in Europe. The initiative was nominated and presented by Andor Deli MEP
The Ludgate Hub – located in Skibbereen, Ireland was created as a result of the shared vision of a number of business people with strong local connections and is leading the way as a demonstration of what is possible in a rural community if given access to high-speed broadband. It is one thing to wax lyrical about a connected future, it's quite another to put it into practice and witness the real benefits it brings to the local community. The Ludgate Hub offers space for 75 digital workers in the start-up phase. Nominated and presented by Sean Kelly MEP
STOP EXTREMISM European Citizens Initiative – the purpose of the Initiative to secure an EU directive to close loopholes in the fight against extremism, resulting in the establishment of a mechanism to ensure effective, Europe-wide protection from extremism. Nominated and presented by Monika Hohlmeier MEP and Claudia Schmidt MEP 

However, there was more to the show.
Every winning SME was still competing for the main prize – the SME Star Awards Winner 2018 voted LIVE during the event. After the votes were counted, Manfred Weber, Member of the European Parliament and Chair of the EPP Group came on stage to announce the Winner. And it is our utmost pleasure to announce with him the SME Star Awards 2018 Winner Delacon Biotechnik GmbH! We sincerely congratulate Markus Dedl, the CEO and all team of this great SME! Well deserved!
It was a project that made us proud! Proud of being Europeans! With SME Star Awards we hope to make a difference and create a magnificent occasion which will yearly bring SMEs into the Brussels spotlight and thus mobilizing SMEs to push themselves above and beyond. It is also an opportunity to celebrate our long term commitment to European SMEs.