"The Future of Free Trade between the EU & India"
On March 6, 2018, SME Europe of the EPP hosted a Working Breakfast event in the European Parliament considering the following thematic: "The Future of Trade Between the EU & India". The event featured the following speakers and moderators: Srita Heide, Founder & CEO, Srita Heide International – Indo-European Business, Dr. Ingo Friedrich, Honorable Member of the European Parliament, President of the European Economic Senate; Dr. Paul Rübig MEP, Member of the ITRE and BUDG Committees, Honorary President of SME Europe of the EPP; H.E. Gaitri Issar Kumar, Ambassador of India to Belgium, Luxembourg and the European Union; Godelieve Quisthoudt-Rowohl MEP, Member of the International Trade Committee; Stephan Csoma, Executive Vice President of Recycling, Umicore; Chinmai Sharma, Chief Revenue Officer, Taj Hotels Resort; Vandana Mehrotra, CEO State Bank of India; Dr. Andrzej Rys, Health Systems, Medical Products & Innovation Director, DG SANTE, European Commission; Lilly Vasanthini, Associate Vice-President DacH Head Delivery and Operations, Infosys.
Dr. Ingo Friedrich welcomed the guests. He mentioned that it is most likely in the future we are going to see the rise of 5 empires: China, India, America, Europe and, Russia (perhaps). With this in mind, he expressed a high interest in the discussion that is going to happen.
Srita Heide remarked that the platforms for communication are highly beneficial for politics, trade and business to come together. The European Union has many positive impacts on our lives and has also it's challenges – demography, border security, management of the global migration. In order to master these challenges, the EU must develop and strengthen diplomatic and business relations with emerging markets and developing countries. G20 is represented at least by 15 Non-EU countries. Also, if we compare the data of the WTO it becomes clear that major part of trade and business is happening outside of the EU, moreover there are strong start-up communities thriving in immerging markets. It is important to be part of this development, therefore we need to have a debate and define an agenda in order to unite the resources between the EU and non-EU worlds. To give you some thoughts before the upcoming discussion. We need a clear understanding and a realistic approach.
H.E. Gaitri Issar Kumar, Ambassador of India to Belgium, Luxembourg and the European Union stated that India supports and depends on strong and successful European Union. India feels it has a stake at the EU success as EU is India's largest trading partner. The 14th India-EU Summit was held last October in Deli. President Tusk and President Juncker were there. During the summit, a joint statement of 53 paragraphs was issued with a plan on how to expand our relations from just trade to a cross-border cooperation in science, space, research in civil nuclear, education etc. There are many areas where India would like to expand the relationship. Speaking of trade here are a few facts about India: foreign rade constitutes 45% of India's economy. India is working right now on increasing the share of its global trade to 3,5%. India is the 9th largest trading partner for the EU imports and 10th largest partner for the EU exports. We are working closely on chemicals, food and drinks, energy, manufacturing goods, machinery and vehicles, raw materials, precious stones, aircraft industry. Germany, the UK, Belgium, Netherlands, Italy and France share the top slot in these activities. Moreover India and the EU share common values – which is important in the rapidly changing dynamics of the world order. For both entities, it is highly important fostering a rule-based international order regulated by the UN and the WTO. India endeavors at establishing global norms for the climate. However, India still has issues in data security, however India is working together with the European Commission to address these barriers. India's GDP grew 6, 3% in July to September 2017, and than by 7,2% in the last quarter of the year. That means that India is actually emerging as the worlds' 5th largest economy overtaking the place of GB and France. By 2027 India is expected to become a 6 trillion economy. We are expecting growth in merchandise exports, services, investment. India's labor force is expected to rise to 170 million by 2020 based on population growth and higher education enrollment. Moreover India is the 3rd largest start-up base in the world with 5 000 technology startups. By 2025 India is expecting to have 100 000 startups which will create employment for 3,5 million people and 500 billion in value. Another ambitious figure is India's endeavor to become the 3rd largest consumer economy as 4 trillion by 2025. India is establishing several flagship programmes (like "Make in India") to attract investment, number of sectors have opened up to foreign direct investment. India aims to shift from non-fossil fuels by 2020 and increase the renewable energy from 57GW to 175 GW by 2022. We are inviting our partners to make in India, Invest in India, be part of Indias' digital story. As to the SME sector in India it employs 106 million people which is 40% of India's workforce. Currently the sector constitutes about 6% of the manufacturing GDP and 24% of the services sector. Most Indian manufacturers (45%) are SMEs. With average growth expectancy about 10%. Indian government has reduced corporate tax for SMEs with the annual turnover 2.3 million euros or less. The EU is interested to participate, the European Investment Bank has recently established an office in India and is looking for projects. We have also collaborated to establish a facilitating investment mechanism for EU investments in India. With all the economic reforms and the expectations SMEs are expected to play a much more important role in the economy.
Dr. Paul Rübig MEP stated that the partnership with India and Asia is substantial for the EU. As Donald Trump has declared a new trade war it becomes clearer how important it is to come together and to build up trust. We are trying to get forward the agenda of the WTO. We understand that India plays a very selective role on these activities. However, I believe it is necessary to find different options and contribute to a friendly SME world. India accounts 42 million SMEs meanwhile here in Europe we have 25 million. However Indian SMEs have 6% of the GDP, and European SMEs do 50% of the GDP. 80% of the employees in Europe are working for SMEs. It is to see how crucial is the role of SMEs in the weakness of the citizens and it is my job to make the governments being respectful to the SME agenda. We can see the benefits of the internal market without borders here in Europe, and that kind of free market relation is highly desirable globally. We can continue our approaching towards each other by building up trust in order to shape the globe in the right direction. On the level of UN, we are working on SDGs (Sustainable Development Goals). Some months ago I was visiting Kyoto where I am the Board Member of the STS forum. We firmly believe science should come together with governments and have a debate on the SDGs as they will play a crucial role to battle poverty, but we also have to boost education, infrastructure, science, research and many other ways we could work with major outcomes. For Europe, we have several targets with SDGs: healthy food, sanitation, clean water, renewable energy. These are the areas we want to invest. Being part of the Development Committee in the European Parliament and involved in the Multiannual Framework Programme which will be a 1000 billion eur programme for the next seven years for the developing areas. We think we should have our stake at it and help SMEs to build up partnerships. India is able to deliver a lot of valuable goods and services to Europe and to the rest of the world. We could cooperate together in third markets. By all means, it could be a fruitful partnership for the future and that is the reason SME Europe is organizing such meeting today. We do not want trade wars but sit together and find solutions.
Godelieve Quisthoudt-Rowohl MEP remarked despite her being the coordinator for international trade for the EPP, does not make her a universal genius who knows everything about every country. But as an acting politician paying attention to the concerns of the citizens we heard a lot of complaints about difficulties with the possible free trade agreement with India. Such complaints are heard often these days however it might not mean that the problems were solved. The European Commission has been negotiating this since 2007 with the next round being in April. However, we understand that the progresses are not remarkable, at least for what it looks like from the outside. And we at the Parliament are not completely insiders in these negotiations. There no doubt in a potential of such trade deal. India is our 9th most important trade partner. What is the EU negotiating about? The risks for the Free Trade, the bilateral access to markets for products, services and, public procurement. The frame conditions for investments and investment protection, protection of intellectual property especially for the pharmaceutical industry, as there are a lot of concerns especially for this sector, and of course the broad field of sustainable development, environmental protection, social and labor rights. In the free trade discussions between the EU and India, I observe that the soft skills are merging more and more with the hard skills, with trade and the economy. The moto is no longer: "Trade is growth and is good for the industry", now we say "Trade is growth, but it must be good for the people". That's the difference in optics. It is always easier to speak about problems rather than about things that are actually working well. As long as India is not ready to adjust tariffs for the European automobile industry or the standards of protection of Intellectual property there will be difficulties to go forward with the trade agreement. The same applies for the EU: as long as the EU does not accept India as a safe dept country or does not grant the visa-freedom, there will be also difficulties for India to open up. I see chances to brake this circle by talking more with each other and trying to identify the fields of common interest where we can cooperate. Another problem for the EU is when back in 2017 India canceled bilateral investment treaties with 50 countries including 22 EU member states. These agreements were signed in the 90s and Indian position has fundamentally improved and changed ever since. The EU sees it as a sign of the increasing protectionism. It is worth to be mentioned, that in some EU member states there are similar tendencies. India is still part of the GSP EU programme and as we understand, the involvement of India in it will not be changed.
Stefan Csoma was willing to share practical points of his experience as a leader of a company operating in several emerging markets. The key issue for the companies participating to the sustainable development is the consistent implementation of policies around the world supporting resource efficient and sustainable business development. We are involved with sustainability and recycling and very often we realize that policies in that area are not consistent. An example of the cooperation between India and the EU is our current technological agreement with Mahindra (Indian car producer) in India to develop the Electric Formula 1 Racing engine. Umicore is a global materials technology and recycling group employing 10 thousand people with a 10.4 billion eur turnover. We are not really an SME but also not a major large group – we are in between. Our main activities are catalysts and automotive catalysts in particular. We are active all around the world. We are leading supplier of material for recharging batteries and possess the best technology for recycling complex materials such as combustor emissions. We are very active in the clean mobility area. The three main pillars of our business model: briefly explain how we are positioned, what is important for us in terms of trade or implementation of local policies and why is it important. We started with the international group of car producers in Europe, North America and Northern Asia and then we moved around the world with our customers. Our customers require us to produce wherever they are located. With this expansion all around the world, we realize that each market has some specifics to it. Therefore we sustain that the topic of free trade is not much about trade, but about producing in a different market therefore, we need policies consistent with these requirements. So our business is global and international but very local at the same time. In terms of legislation – the EU and the US emissions have been a reference for the rest of the world where we see really a consistency. Battery material is different: though we are a European based company it all started in Asia. We are going to invest 660 million eur in the next two years in China to continue growing our plant. In North Asia we have benefited by a very supportive environment created by the authorities and we had very clear goals. The goal was to reduce pollution in cities in particular so it has been a real win approach between the authorities and the industry. We believe that similar kind of cooperation can be a perfect point of reference for the EU and North America. As to the recycling – we see a trend of recycling locally first of all for environmental reasons, access to raw materials, that every part of the world wants to retain, for safety reasons. There is a vehicle recycling model system which is being developed more and more around the world in major countries and in major regions, still with a certain number of exchange as some plants are better equipped. We believe that the experience that Europe in recycling serves as a good source of inspiration for the authorities around the world. In China we have failed at first for it was technologically not sufficiently differentiated. This being said we see very clearly that Chinese authorities are very interested in developing a similar model but they still face a major issue which is related to the collection across provinces. Such issues that China is facing are related to India as well. We are very supportive with all the legislation going on in Europe for the past 20 years. The enforcement of it is not always successful though. That has been worrisome in recent years as we see sometimes contradicting policies. So our key message is: it is not much about just trade in the world but consistent policies in all parts of the world supporting the development of industrial sustainable development.
Chinmai Sharma, Chief Revenue Officer of Taj Hotel Resorts, has been in business for more than 100 years, originated in India but with global aspirations. The Taj Group of hotels is part of a larger enterprise, the Tata group, which is present in more than 150 countries, with 100 billion dollars in terms of turnover and market capital. 70% of the revenue comes from international market. The core of our philosophy is in improving of the wellbeing of the community wherever we. The company started in 1903 in Mumbai, we are the only hotel that operates living palaces – 8 palaces aged 100-400 years old where royalty used to live. We have 140 hotels in different parts of the country and in the world. Everage rate per night starts from 130 EUR to 1000 EUR per night. For startups and SMEs we have specific programmes that are helpful to get better discounts. One of our strong business philosophies is what we call "Tajness" is that we take sincere care of our guests, with a lot of emphasis on Indian tradition. In terms of current economic environment despite all the chaos the countries economy is growing at about 7% which is unlike any other countries. That is powering a lot of SMEs to expand. Domestic air travel has been growing at 15 – 20%. In the next couple of years, Indian will be the youngest population of the world which means more people in the workforce. We are experiencing a strong technology revolution, the access to data has become a lot easier. The access to smartphone technology has a remarkable impact to the startup environment. India is the largest population and user of smartphones – lots of people in India access the Internet for the first time through a mobile device that pushes us towards a speedy introduction of the 5G. India has been the back end for technology in the world for a long time for many multinational tech producers. Now the time has come for India to create its own brands. As to the concerns in the hotel business, we have about 80 locations within the country and 25 internationally. Within the EU we are in London and we aspire to get to other key European cities. We are largely operating in the US.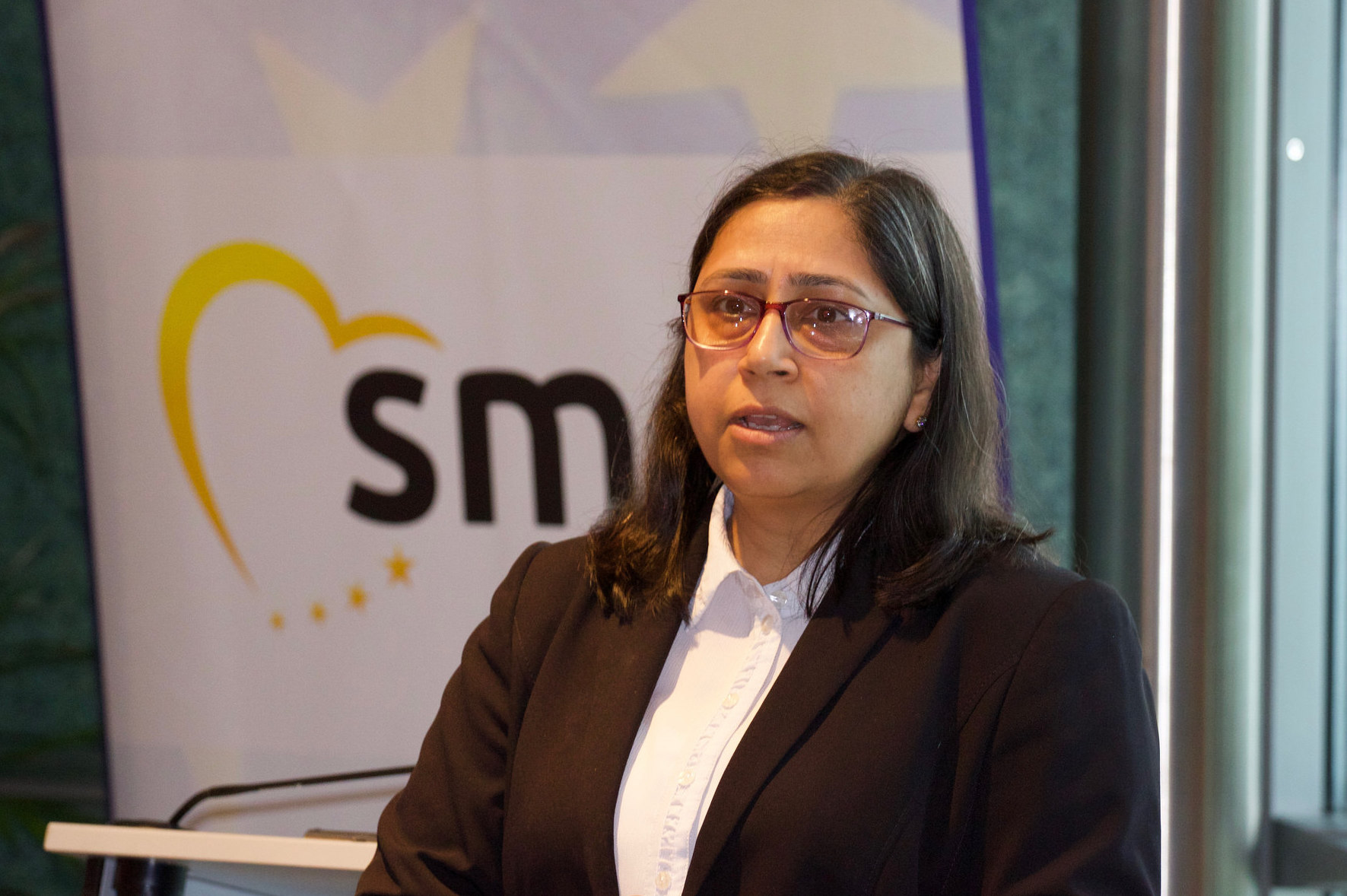 Vandana Mehrotra, newly elected CEO of the Bank of India, based in Frankfurt, has started her career in the Bank of India about 29 years ago operating majorly on the treasury side. At the moment a mainly work with large corporations operating and having transactions with India and there is a very small segment of SMEs as well. However I see a lot of future in cooperation of German and Indian SME companies. We are trying to get into this area and see how we can facilitate SME groups operations that are trying to invest in India. For example, we are facilitating the opening of the accounts in India without making stakeholders going to India for that which saves time and money. The State Bank of India is the largest bank with a notorious credibility and guaranties. We have a huge lead with 20 000 branches all over India and we have been in Frankfurt for 53 years which that trade and long-term business relations have always existed. At the moment the current government of India campaigns for the "make in India" and that kind of policy supports SMEs throughout India. What we do in these regards is related to facilitating down loans especially for acquisitions. The largest trade agreement that has happened actually was between Airbus and the State Bank of India. With the EU India is majorly trading on space technologies and military space technologies. So without any doubt, coming from Frankfurt, we are the major financial entrance door to India for Europe. We serve customers for Germany, Belgium, the Netherlands and France and we are trying to expand to Eastern Europe.
Dr. Andrzej Rys sustains that India is the Pharmacy of the world. Since 4 years there is the regular dialogue between the EU and India regards to the pharmaceuticals and we may call it quite a successful story. There is progress: we started to understand and trust each other. When we introduced the new directive – European Directive of Falsified Medicines we trusted Indian administration to take responsibility to license exported medicine to Europe. It might come as surprise for many of you, but we depend on import of supply chain from India and China. Since then we never had trouble with any of these certificates. As to other problematics, during the October Summit pharma came to the picture during the discussions of our leaders and it is clear that we have to strengthen the inspection and the capacity of Indian administration industry to work better, to make sure it corresponds to global standards of import and exports are achieved. We offered our Indian partners to join us in a multilateral work in the international council of harmonization. India has already joined us as an observer there and hopefully will become member. That is how envision the next layer of our collaboration.
Lilly Vasanthini is coming for IT sector, from Infosys, a global software organization with 10 billion in revenue. Again, we are not really an SME, but we consider us small in the EU as there is so much to do and so much to learn from the partnership. One of our largest partners in Belgium for instance, is Belgacom where we cooperate in modernisation of services and software. We started in 1981, we entered the market of Germany, we identified where we could start working together and why did we primarily get out from India. At the moment in Germany, we are partnering with major organizations in the automotive (BWW), pharmaceutical (Novartis), banking (Commerzbank and Deutschebank) and financial sectors providing software solutions and modernization of IP services. If we look at it from the Indian standpoint we are the country with a very strong expertise in software engineering, with no language barrier, therefore it is easy to communicate and connect to the rest of the world and exchange information. When we talk of IT services there are many constraints: for instance, data privacy is a key element of discussion these days. To our view the ideal mode of working together: we started at automatization back at 1981 we started to provide on sight and offshore services specifically in Europe. Being said, obviously providing services offshore is directly related with data security and precautions for the data not being leaked and from our personal experience we have managed to achieve that target.
To view and download more photos from the event follow the link