On 1st June 2017, SME EUROPE in cooperation with Friends of SMEs and the European People's Party, hosted a Working Breakfast event in the European Parliament considering the following thematic: "Copyright reform – New benefits or more obstacles for Europe's startups and SMEs?" The event featured the following speakers: Inese Vaidere MEP, Member of the Committee on Budgets; Horst Heitz, Executive Director of SME EUROPE; Lenard Koschwitz, Director of Public Affairs at Allied for Startups; Jack Mckeivor, Director of Friends of SMEs (on behalf of Therese Comodini Cachia MEP); Axel Voss MEP, Member of JURI Committee, Opinion Rapporteur on Respect for Private Life and the Protection of Personal Data in Electronic Communications; Patrick Bunk, Founder & CEO at Ubermetrics; Anna Rose, Co-founder of VideoPath; and Jake Beaumont-Nesbitt, Executive Director of the International Music Managers Forum.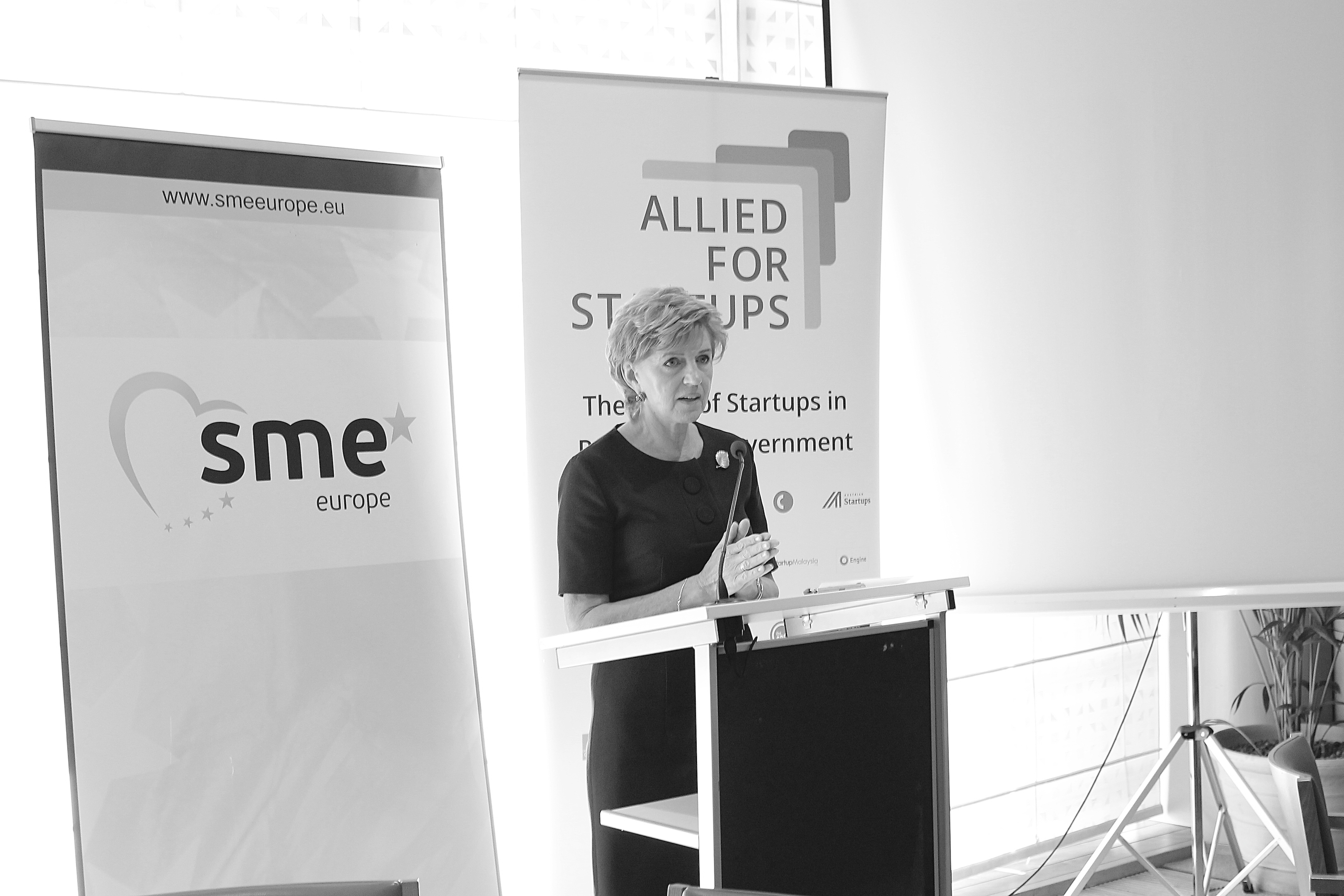 Mrs. Vaidere kicked off the event by explaining how so many Start-ups were made possible through the development of technology. She also noted that SMEs are consumers as well as innovators, and that their interests should be certainly be considered in the copyright reform. She was also quick to say that there are no clear online platforms available and bevcause of this, there is a necessity to adapt copyright regulations to the start-up age whilst making flexible rooms for new technology.
Mr. Koschwitz praised EU investment funds for being a significant help to SMEs. Aside from this, he noted that SMEs always need access to talent as well as finance; this talent should be available from educational institutions and from overseas. In order to realise this, it is therefore crucial to develop the correct regulatory environment. Mr. Koschwitz underlined the importance of all this by valuing 430 billion EUR to GDP offered by the Digital Single Market. He feels that it is now important to develop a European "scale-up" continent which would create an extra million jobs for Europeans. He is convinced that SMEs are not looking for a free ride when it comes to copyright, but they should be regarded as the big companies of tomorrow.
Mrs. Comodini Cachia's keynote was delivered by Mr. Mckeivor. It was said in this speech that the main controversial issue is the very divergent position of stakeholders or rights holders who are on the same value chain as each other. The risk that is run by regulating copy right for tech giants, is that one would also be harming the next generation of European SMEs. The Rapporteur went on to say that solutions need to be found which follow the logic of copyright and that will not be outdated following the implementation phase.
Mr. Voss was next to take to the floor and wants to make sure that consumers and innovators can make the very best out of the digital world. This should be achieved by creating new online regulations for all online users. He is also an advocator of protecting the cultural and sustainable innovation taking place in Europe today. Almost half of the EU's internet users listen to music, watch films or series online, but broadcasters are finding it difficult to allow these rights across borders in the EU. The copyright proposals should therefore focus on three main areas: 1. Better choice of access to online resources across borders; 2. Improving copyright rules on research education and inclusion of disabled people; 3. Fairer and sustainable market place for market users and creators.
Mr. Bunk then gave his opinion as a small business owner on this matter. He feels that text and data mining activities used by search engines need to be more regulated. He referred to this type of technology as AI related as it extracts high volumes of information from data. The problem of with this according to Mr. Bunk is that only Google and Facebook have access to licenses permitting this sort of data access in sheer volumes. He implores big companies such as those mentioned not to become complacent in this strong position.
Mrs. Rose said that most of the users of her interactive online video player are publishers and businesses. She is convinced that these new proposals would stop people trying to compete through lack of protection. She therefore urges EU authorities to take elements of effective industry into account, and that higher licensing fees could push SMEs out of the market completely.
Mr. Beaumont Nesbitt as an Artist Manager sees the representation of self-managing artists and helping them get online as very important. He said that artists want to reach audiences and sees them as partners rather than cogs in a machine. Ultimatley he would like to see a growth in audience exposure which means financial growth and a win-win situation for consumers and creators. He mentioned that there is a growing fear of USA market domination, who through their frameworks are able to make their playlist available globally. Homoginisation of playlists is therefore a big threat to the industry.