On 10th October 2016, SME EUROPE of the EPP in cooperation with ERTRAC was delighted to welcome guests to a Working Dinner on the thematic of: "Automated Driving: Opportunities of Implementation in Europe" in the European Parliament. The speakers for this even included Ivan Štefanec MEP, Paul Rübig MEP, Cláudia Monterio de Aguiar MEP, Deirdre Clune MEP, Paul Timmers (Director of Digital Society, Trust & Cybersecurity in the European Commission, Directorate General CONNECT), and Stephan Neugebauer (ERTRAC Chairman, BMW Group Director Global Research Coordination). The table hosts included: Elisabetta Gardini MEP, Pilar del Castillo Vera MEP, Dominique Riquet MEP, and Ismail Ertug MEP.
Mrs. Monterio de Aguiar opened the dinner by informing the other participants that she believed Automated Driving is an emerging reality transforming the way of life and that it is an opportunity that the EU cannot afford to miss by not having the relevant legal framework in place. She believes that now is the time to seize this opportunity by giving the right signals to potential investors. Increased mobility for senior citizens and disabled population was also a central theme to her introduction.
Mr. Timmers was next to the floor and begun by saying how delighted he was that this "roundtable discussion" brought together the two key sectors (automated sector and telecom sector) who were last meeting in Frankfurt at the motor show. He informed the participants that the Commission is developing a European Deployment Project of over forty members through which the Commission will look at synergies for the running and funding of a programme.
Ivan Štefanec MEP commenced his observations by noting that in the eventual success of automated driving in Europe, we can expect to witness the mobilization of up 50 billion pieces of technical hardware being connected and automated. His concerns on the matter concern the issue of user acceptance specifically on the point of safety and security. He is convinced that automated driving will increase productivity and substantially reduce labour costs.
Paul Rübig remarked that a solid framework should be developed through "option assessment" right up until 2050. As well as creating sustainable resources for the future, Dr. Rübig is excited about what this project will mean for the virtual world and the future of data usage. As already mentioned by other speakers, he feels that safety is of paramount importance, and if implemented correctly, has the potential to save many lives on European roads of the future.
Deirdre Clune MEP was quick to praise already existing technology developments in this field, and insists that we are already living in a world of automated driving with the help of such utilities as parking assistance and cruise control for example. She is convinced that there are serious opportunities available to SMEs at entry level as they are more flexible in programme changes in their projects, unlike bigger firms who lack the agility their own digital programmes for example. She also echoed Dr. Rübig´s call for guidelines from which the appropriate infrastructure can be developed.
Stephan Neugebauer held the final keynote speech by informing the audience that digitalization just happens whether people want it or not; despite this, digitalization could be the solution to the future by developing smart city logistics and development for example. He was also adamant that in this certain case, the recent tests launched by Tesla have proven that a reliable system is simply not ready. He made it very clear that a fully automated vehicle is far more than just a smart phone on wheels. He wrapped things up by mentioning that the United States is investing 4 billion USD in automated driving which should serve as a bench mark in Europe.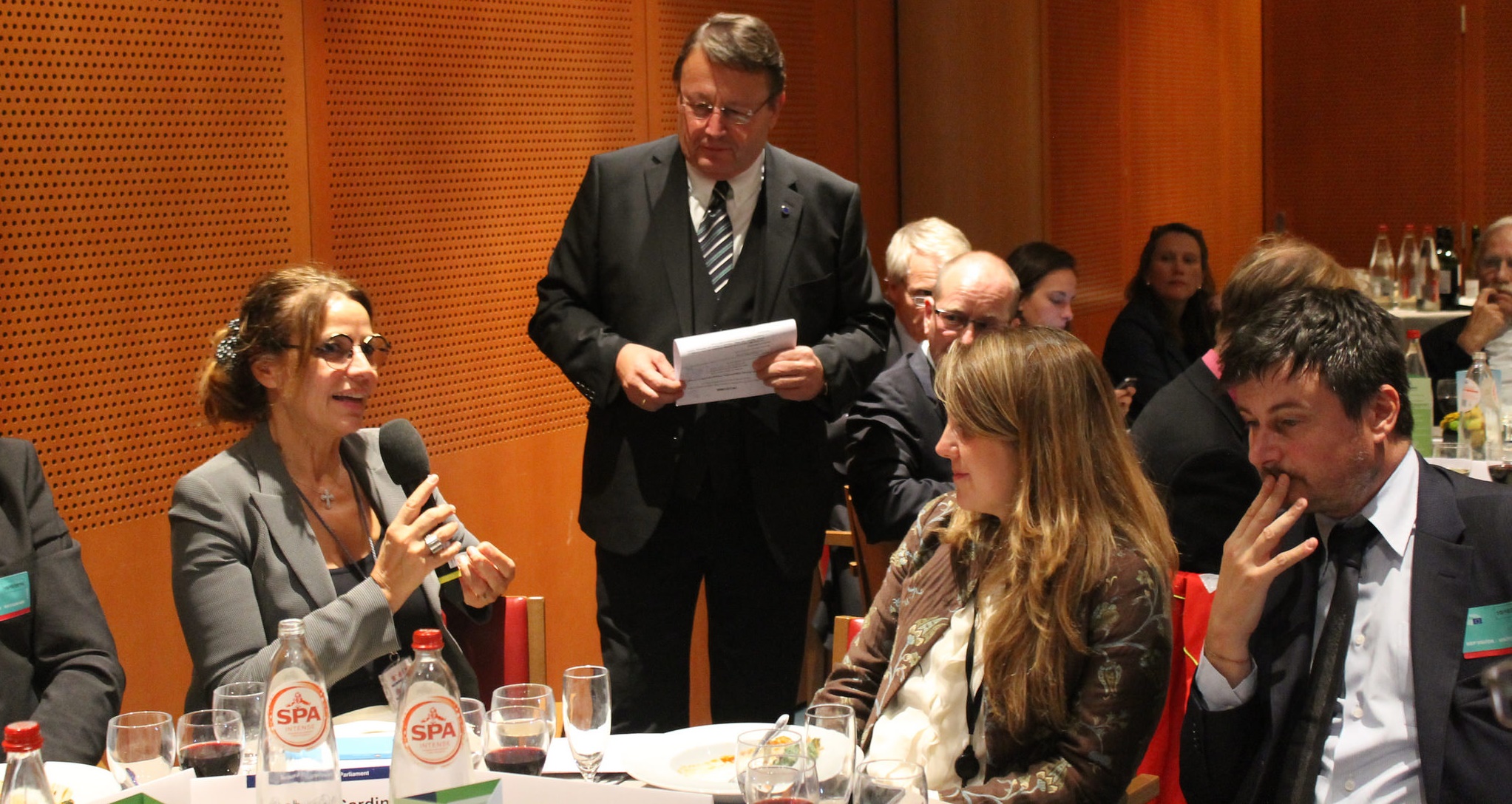 The event then entered the discussion phase in which the table hosts; Elisabetta Gardini MEP, Pilar del Castillo Vera MEP, Dominique Riquet MEP, and Ismail Ertug MEP, brought their concerns and observations to the mixture. These remarks included the importance in differentiation between connected and autonomous vehicles, incentives in the research and development sectors, and the coordination of industry sectors and member states.